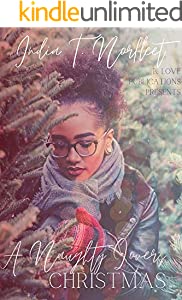 Report an issue
---
A Naughty Lovers Christmas
India T Norfleet
Urban Fiction, Holiday, Xmas, Short Stories
Adult (25+)
Release Date: December 2019
All Lucianna Weeks wants for Christmas is for the right man to come along and satisfy her craving for real love. But in her haste to want to write her own love story, her heart has been broken more times than she cares to admit. Embarrassed and lonely after her last relationship ended up in disaster, Lucianna vows to spare herself another heartache and ultimately decides to give up on all things love. 

 Just when she finally finds comfort in her decision, a two hundred and forty-five-pound, milk chocolate, tall piece of muscled man, strolls into her life with a shameless appetite only for the things he wants to do to her. Now, completely confused by his appearance in her life, Lucianna wonders if another heartbreak is the only thing she has to look forward to this holiday season, or will the long-desired gift of love, tagged with her name on it, finally make its way under the tree this year? 

 After years of reckless bachelorhood, Memphis Reigns is tired of the rollercoaster of endless women and dead-end relationships that have become his life. Ready for a woman he can call his own, and a renewed motivation to leave behind a deeper legacy than notches on a headboard, Memphis is inspired to make a few changes to his life's blueprint for success and add a couple hearts of hope along the way. 

Luckily, the holiday season comes with a little mercy that begins to glow brighter than he expected, and much sweeter than he believes he deserves when he crosses paths with the beautiful Lucianna. Unfortunately, karma just might have a difference of opinion, and doesn't hesitate to make its stance. Will Memphis be able to settle up with the ghost of Christmas present and start anew just in time to meet Luciana under the mistletoe? Or will he lose her forever?
This is an affiliate link. This means that the Melanin Library may get a small commission if you purchase something using our link, however you will not be charged more.